Our loyalty program & its advantages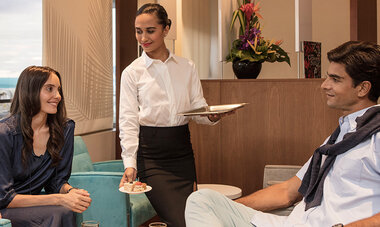 Air Tahiti Nui's network, and that of our codeshare partners, open the doors to French Polynesia and 4 continents.  From Tahiti to Paris, via Los Angeles or Seattle, to Auckland or Tokyo, choose the Tiare flower company and its Tahitian Dreamliners for your pleasure and become a privileged traveler.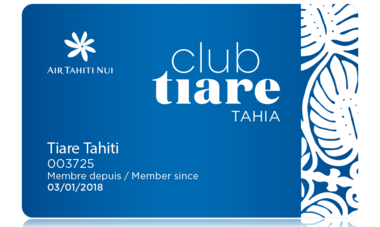 Club Tiare TAHIA 
As soon as you travel for the first time, you'll join our privileged travelers' club and start collecting miles. The more you fly, the more you'll be rewarded.  
3,000 welcome miles are offered on your first trip.
Reach the Silver or Gold status
Status miles are your key to unlocking new benefits that you'll be able to enjoy every time you travel with us.
Earning as many Status Miles as possible helps you maintain your current membership status from one year to the next or reach the next level.  On each flight you take with Air Tahiti Nui, the number of Status Miles you will earn is calculated according to the distance traveled, the airfare and the travel class.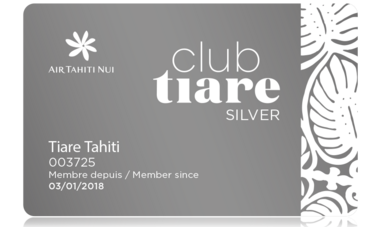 Club Tiare SILVER
From 30,000 status miles earned per year, enjoy additional services and privileges:
50% bonus miles on eligible travel
Access to the Business Class check-in line
An additional piece of luggage
A dedicated phone line in Papeete (+ 689 40 47 67 77) and Paris (+ 33 0 825 02 42 02).
Club Tiare GOLD
If you have earned 60,000 status miles over the year, you will have access to the most privileged status of our program:
75% bonus miles in addition to your award miles
Access to the Business Class check-in line
Business lounge access on Air Tahiti Nui flights
Business lounge access for one guest on the same flight
An additional piece of luggage
Priority delivery of your luggage
Free choice of your PREFERENCE seat
A dedicated phone line in Papeete (+ 689 40 47 67 77) and in Paris (+ 33 0 825 02 42 02)