Flights to Paris
Air Tahiti Nui takes you to the City of Lights! Find your flight to Paris at the best prices thanks to our all-inclusive flight tickets and special offers. Air Tahiti Nui operates regular flights to Paris CDG. Book your flight to Paris now.
Your flight to Paris
For more than 20 years, your airline has been flying around the world with you. Air Tahiti Nui connects Tahiti to Metropolitan France through scheduled flights landing in the Paris CDG airport, with a stopover in Los Angeles.
Book your flight from Papeete to Paris (PPT - CDG) or from Los Angeles to Paris (LAX - CDG) online. On our booking platform, choose your travel dates, departing and arrival airports to find all our flights to Paris CDG and our flight prices for this period. Thanks to special offers available occasionally on Air Tahiti Nui, save money on your travel budget by booking a flight to Paris CDG at lower prices!
Our ticket prices include meals served on board, entertainment programs designed for you, and comfort amenities to ensure a pleasant trip. Each class of travel also provides you with an allowance of at least one piece of checked luggage up to 50 lbs.
The world is yours! Book your flights to Paris CDG with Air Tahiti Nui now.
Select the city of departure to your destination
Fly to Paris with Air Tahiti Nui
Book your tickets to Paris CDG with Air Tahiti Nui to enjoy a comfortable and relaxing trip. With their warm and welcoming atmosphere, the Islands of Tahiti will guide you throughout your journey to the city of Paris.
We welcome you aboard our Tahitian Dreamliner, a unique aircraft, a technological gem designed for long-haul flights. Enjoy our amenities on board during your flight to Paris CDG:
Comfortable seats with cushions and blankets,

Comfort kit offered to every guest,

Three travel classes to suit your budget,

Advanced air renewal and cabin pressurization systems for a comfortable flight,

Individual high-definition screens to watch movies or documentaries, listen to music or play video games on demand throughout the flight,

In-flight Wi-Fi option available on all flights.
For even more comfort in your travel class and at departing airports, you can book our A la Carte Services before your flight to Paris ! Check our option services and prices online and on your Air Tahiti Nui mobile app.
Our pursuit of excellence drives us. This daily commitment has been rewarded on several occasions with the titles of "Best Airline in the South Pacific" and "FIVE STAR MAJOR AIRLINE" respectively in the Global Traveler's GT Tested Awards and APEX Awards. Fly to Paris CDG in the best comfort !
Choose your travel class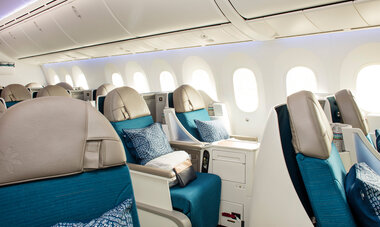 Poerava Business
The Poerava Business class offers a luxury cabin. Its comfortable seats recline 180°. You can rest comfortably throughout the flight. Book your flight in Poerava Business class and benefit from priority access, two pieces of luggage up to 32 kg in the hold, and the Lounge Pass.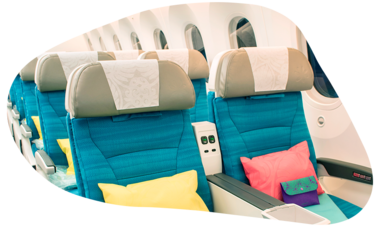 Moana Premium
With our Moana Premium cabin, you'll enjoy wider seats and more legroom. Our lagoon-colored seats recline 20 cm and a premium comfort kit awaits you on board. Travel with two pieces of luggage up to 23kg with your Premium class tickets.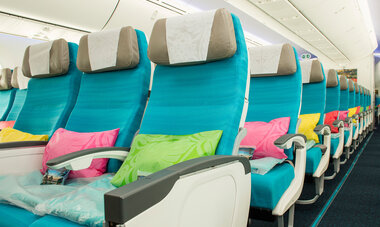 Moana Economy
Save money on tickets with Moana Economy. Our economy class cabin provides you with the comfort of 15 cm reclining seats equipped with individual high-definition touch screens. Meals and a 23kg checked bag are included in our economy fare.
Discover Paris
Paris is famous for many reasons: Haussmannian architecture, historic landmarks throughout the city, museums, nightlife, entertainment, food, and luxury shopping... Therefore, there are a lot of ways to experience your stay in Paris to the fullest!
If you have time, the French capital is easy to visit on foot. All the main attractions are also very well served by public transportation.
Among the must-do Parisian activities, you can climb to the top of the Eiffel Tower to enjoy the panoramic view of the city. You can then walk along the Seine, past the Invalides and across the Alexandre III bridge before reaching the Place de la Concorde. Finally, you can cross the Jardins and the Avenue des Champs-Élysées to go window-shopping at the major luxury stores of Paris, while heading to the famous Arc de Triomphe.
On the opposite side of the city, the Marais and Montmartre are other great neighborhoods to discover. Take time to stop at a Parisian café, dine in a good restaurant, or spend some time in one of the many popular shopping areas of Paris.
At night, the legendary theaters, cabarets and concert halls open their doors to provide you with unforgettable experiences!
Check the prices of your Paris CDG flight now and book your ticket in your preferred travel class to fly with us to the city of Lights.