Transporting Pets and Animals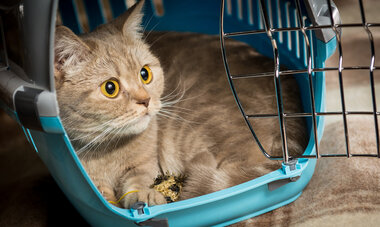 Do you wish to travel with your pet or service animal? You will find all the information you need here to prepare for your trip including transportation rules and conditions, fares and the list or prohibited animals.
Pets in the cabin

Air Tahiti Nui allows dogs and cats to be carried in the cabin accompanied by their owners on the following flights only:
Los Angeles – Paris
Paris - Los Angeles
Papeete - Los Angeles
Papeete - Paris.
Conditions of acceptance and transport of animals in the cabin :
Only cats and dogs are accepted (at least 4 months old and vaccinated). For any other animal, please contact our CARGO department.
The total weight of the animal and its container (included) must be less than or equal to 8 Kg (about 17.6 pounds),
The animal must be transported in a suitable container (bag or cage) that can be placed under the seat in front of you and whose maximum dimensions are as follows  L40cm x W35cm x H20cm (L15.7in x W13.7 x H7.9in).
2 small pets can be transported in the same container as long as the total weight is respected (8kg or 17.6 pounds) and that there is enough room in the container for these pets to move easily.
Must comply with all sanitary and veterinary requirements applicable in the countries of departure, transit and destination (with presentation of the required documents).
Availability subject to quota per flight.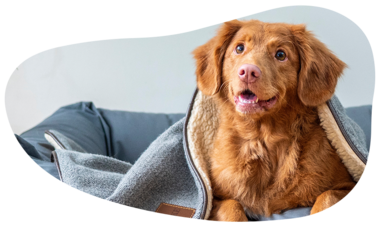 Please send us all the sanitary and veterinary details of your pet at the time of your reservation or at the latest 48 hours before your departure. This will allow us to prepare your pet's trip in the best conditions and as soon as possible.
Transportation fees are based on flight :
From Los Angeles to Paris : 150 US dollars 
From Paris to Los Angeles : 150 Euros 
From Papeete to Los Angeles : 14 000 XPF 
From Papeete to Seattle : 14 000 XPF
From Papeete to Paris : 24 000 XPF
Important information:
Your pet must remain in its container for the entire flight until it is disembarked at the arrival terminal. Your pet and its container are considered as additional hand luggage.
For all other requests, please contact Air Tahiti Nui's cargo department.
Print and fill out the mandatory liability waiver and the conditions for accepting a dog or cat in the cabin. You will be asked to provide it upon check-in on the day of departure.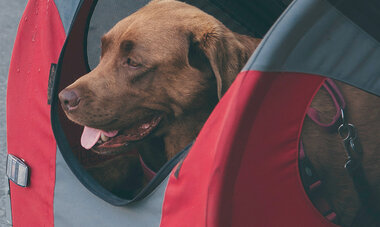 Examples :
Pitt Bulls, 
American Staffordshire terrier,
Rottweiler,
Dogo Argentino,
Fila Brasileiro,
Broholmer,
German mastiff,
Majorca mastiff,
Bordeaux mastiff,
Bulldog,
Bullmastiff,
Mastiff,
Neapolitan Mastiff,
Italian Cane Corso and Tosa, ...
Service animals
An "assistance animal" is defined as "any animal individually trained to provide assistance to an individual with a disability".  
This definition excludes all non-trained animals such as emotional support animals, comfort animals and training animals. The latter will have to comply with the rules for transporting pets in the cabin or in the hold.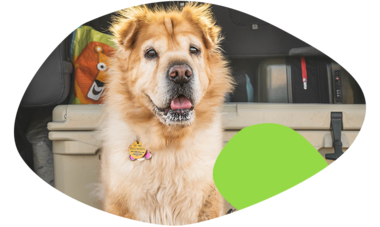 Service animals help meet the daily needs of these individuals, such as:
Agoraphobia,
Autism,
Epilepsy,
Mobility impairment,
Post-traumatic stress disorder,
Psychiatric syndrome,
Deafness,
Vision impairment and loss of vision.
Common tasks of these service animals include:
Guiding a blind person,
Alerting a deaf person of various sounds,
Pulling a wheelchair and fetching objects for a person with reduced mobility,
Reporting an imminent seizure to a person with epilepsy,
Alerting a person with diabetes that their blood sugar is high or low,
Assisting a person in moving around if he or she becomes dizzy,
Reminding a person to take their medication if he or she has memory loss,
Calling emergency services if necessary.
Acceptance and Transportation Rules:
A maximum of two (2) service dogs or one (1) service cat per passenger is allowed.
The service animal must be at least 4 months old.
The animal must be identified by a tattoo or microchip.
Health certificate or passport signed by an approved veterinarian.
Import permit issued by the destination country. It is the traveler's responsibility to comply with all import requirements of the destination country. If the conditions do not meet the requirements of the destination country, the animal may be refused on arrival. In this case, the animal may be repatriated to its country of departure at the passenger's expense.
During the flight, the service animal must be able to travel at his owner's feet or on his lap without encroaching on another passenger's space.
The hygiene and veterinary care as well as the feeding of the animal is solely the responsibility of the person accompanying it.
Air Tahiti Nui may refuse to carry service animals that exhibit aggressive behavior and/or are a direct threat to the well-being or safety of others.
Required Accessories : a leash (with its harness or collar) and a muzzle. At any time during the trip, an Air Tahiti Nui agent may require that the service animal be kept on a leash and/or muzzled if it is justified for the well-being of other passengers and crew. Failure to comply with such a request may be grounds for denied boarding.
More information on entry requirements:
Mandatory documents according to US DOT 14 CFR Part 382:
The following documents (in English only), accepted in paper or electronic form, will be requested at the Air Tahiti Nui check-in counter on the day of your departure.