Parisian Wonderland
What's not to Louvre about Paris?
Paris is always a good idea, and it's an even better idea at this incredible rate. Experience Paris during the Winter and feel the magic of the city take over you.
Starting today, you can fly non-stop to Paris from Seattle starting at $776 and from Los Angeles starting at $876.
Use the chart below to look for the best deals (green bars) and don't forget to select your departure city.
Still not convinced? Scroll down to read our top 10 things to do in Paris during the winter.
Please note: to take advantage of this fare, the first available departure from Seattle is on November 8th.
Validity date: 29 Sep 2023
Sales Period:
Tickets must be issued on/before 29SEP2023
Seasonality/Travel Dates:
OPRUS, OPR2US - 28 Sep 2023 - 13 Dec 2023 and 25 Dec 2023 - 31 Mar 2024
Changes:
$100 USD change fee for reissue/revalidation.
Changes not permitted in case of no-show.
Waived for death of the passenger, or family member.
Cancellations/No show:
Non-refundable in case of cancel, refund and no-show.
Waiver for death of passenger, or family member.

Note: Capacity is limited and subject to availability and may not be available on every flight. Higher prices may apply on certain departure dates where capacity is not available.
Best fares for a round trip from Seattle to Paris
Fares are all taxes included, displayed on a one-way basis, for 1 person in Moana Economy class. Select your departure date to display fares for the return flight.
Flight selection
The fare display function is not available for this travel class. To view fares, please select your travel dates and enter passenger information.
Make the best of your Parisian Winter Wonderland!
Need ideas for what to do in Paris in the wintertime? Look no further, we have curated the top 10 must do in Paris to have the most wonderful winter vacation.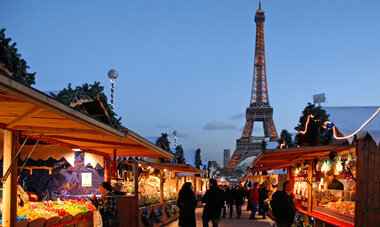 1. Stroll through the Christmas Markets
Be transported to a winter wonderland. Shop the huts, munch on roasted chestnuts or drink some 'vin chaud,' which is French for mulled wine.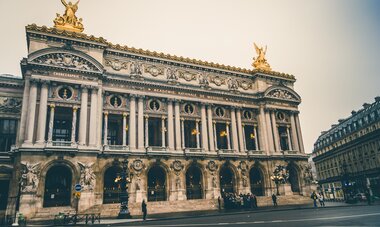 2. Make your ballerina dreams come true at the Opera house
Experience a ballet or theater performance this winter. Palais Garnier is an infamous opera house that will be sure to astound your senses.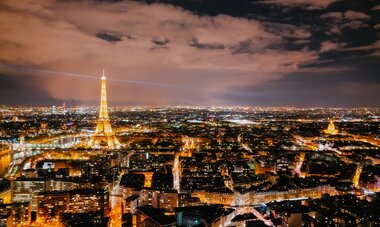 3. Come see the City of Lights in all its glory
Whether you are walking through the city, standing on top of the Arc de Triomphe or Eiffel Tower, watch the lights twinkle as the city embraces the holiday spirit.
4. Shop at the world-famous Galeries Lafayette
Each holiday season this large department has a new theme that is exhibited from their window displays to their giant Christmas tree hanging inside. Then, ride the escalators all the way to the top to see a unique view of Paris.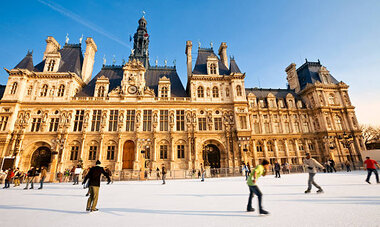 5. Skate in a Winter Wonderland
Embrace the cold and enjoy ice skating at one of Paris's outdoor ice rinks. You can find them throughout the city, such as in front of their city hall, Hôtel de Ville.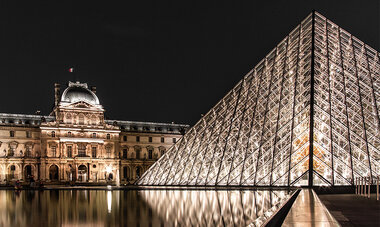 6. Travel Back in Time 
Hide from the cold and experience beautiful artwork.  From the largest museum in the world, the Louvre, to smaller iconic museums, such as Musée D'Orsay, there is no shortage of museums in Paris.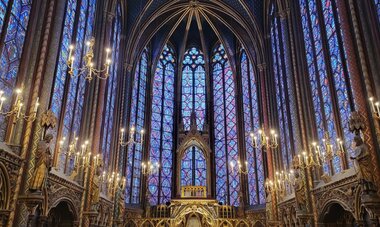 7. Watch the Stain Glass Twinkle at Sainte Chapelle
Stand inside this amazing building and watch the light enter to see the stained-glass glisten in all its colors.  It will be sure to amaze.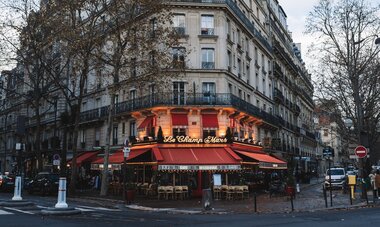 8. Get Cozy in a Quiet Parisian Café 
From fondue to vin chaud, to hot chocolate, indulge in comfort food and drinks in one of Paris's quaint cafés. If you are visiting with a significant other, Parisian cafés and restaurants will create a memorable and intimate atmosphere.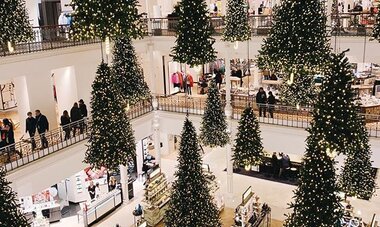 9. Check Off Your Holiday Shopping and More 
Paris is known for its brands and shopping. Grab holiday gifts in December or take advantage of seasonal sales in January and February. Enjoy Fashion Week during February and March, or at any time walk Champs Elysees for some luxury brand shopping.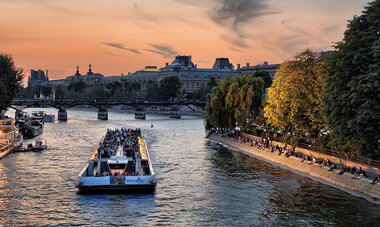 10. Take the Seine-ic route 
What better way to view Paris than from its infamous river.  Hop on a boat and float past Notre Dame, and famous museums like Musée D'Orsay and the Louvre, and of course the majestic Eiffel Tower. 
Most popular flights
Browse the top destinations of Air Tahiti Nui and its partners.